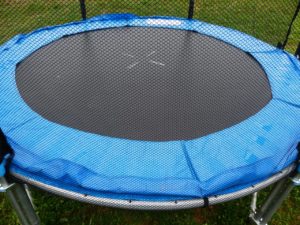 If your kids love spending time and playing outdoors, you have probably considered getting a trampoline for them. Whether your kids asked you for one, or someone suggested that you buy one for your home, you can be sure that trampolines will keep your kids entertained. Trampolines are expensive, but when you buy one, you make an investment that gives you loads of rewards.
Things to Consider Before Buying a Trampoline
There are a number of factors that have an effect on the overall cost of a trampoline. Here is a look at a few things you should consider before you purchase one:
What type of trampoline do you want to buy? Are you looking to get a full-sized, circular one? Or do you want a square one where your loved one can enjoy more gymnastics-type activities? Think carefully about the type of trampoline you want to get and check the options you have (we have a guide here). You can then pick the best trampoline one based on what you need or are looking for.
What type of security and safety features are you looking for in a trampoline? Do you want yours to have a safety net? There are also a wide range of enclosures that you can choose from. The safety features that a trampoline includes will affect the price, so you should keep this in mind before buying a trampoline that will keep you and your family safe.
Is the trampoline's quality important to you? You should remember that quality trampolines tend to last longer and are safer as well. You should opt for a high quality trampoline, even if it costs a little more than you expected. This will help keep costs down in the long run.
Do you want to improve your kids' playtime by adding extra accessories to the trampoline? You can get a tent or a basketball hoop, or anything else, to make sure that your little ones have awesome fun every time they play on the trampoline. This will obviously cost you a little more, but you will find that it is well worth it.
What is the trampoline size that will work best for your family's needs and backyard? You should consider the size of your yard before picking a trampoline. Buying one that is too big for the space you have can be dangerous and cause harm to you and your family while playing.
Cost of Trampolines
A 14 or 15-foot traditional, circular trampoline cost an average of $300 to $400. You should keep in mind that in most cases, this does not include any other protective equipment. If you are planning to get a square or rectangular one, you should be prepared to spend a little more. Some cost $600 to $800 but if you get one from a specialty manufacturer, which includes an enclosure, the typical cost is roughly $800 to $1200. Higher-end models usually exceed $1500. As mentioned earlier, any additional safety features or accessories will cost you more.
Picking a trampoline for your home can be a tough decision and you need to take quite a few things into consideration. You should have a budget that allows you to get a top quality trampoline because as mentioned, quality trampolines are well built, safe and durable. They are a good investment as you will not need to spend money on repairs or replacing the trampoline after only a couple of uses. You should purchase the best trampoline that you can afford. You and your family can enjoy loads of jumping fun safely and for a long time to come when you invest in a quality trampoline for your home.