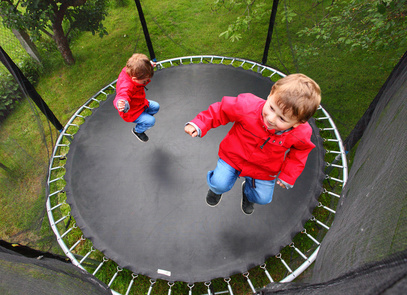 Trampolines are fun no matter how old you are. If you're simply looking to keep your kids happy and occupied or If you're looking for trampolines to stay for yourself, you've come to the right place! We do all the research so you can see for yourself the best trampoline for sale.
Not everyone's idea of a workout is about lollygagging in front of a mirror and clicking selfies. Nor is it about running on a treadmill until the little screen blinks that you have burned an arbitrary number of calories.
Workouts are a type of 'me time'. It's about you, your goals and how you feel while doing it. If it feels demotivating or dragging, then chances are that you won't stick to it for long. In fact, this happens to be one of the main reasons why people are unable to continue with a workout routine.
Thankfully, there are enough options at hand to turn your workout into a fun, interesting and rewarding activity that offers immense health benefits as well. Trampolines are one of them.
If your idea of a trampoline is a kiddie sized small net with a 6 year old bouncing on it, then you've probably been living under a rock. Trampolines are considered to be one of the best low impact, high intensity callisthenic exercises for adults and even seniors.
Why rebounding is better
Irrespective of whether you have tried trampolines before or it's the first time you are going to step on the net, you cannot deny that it's fun. The best part is that it's equally good for your body.
More efficient than jogging: For an average 150 pound woman, an hour spent rebounding can burn 210 calories. At the same time, a mile of moderate intensity jogging can only be worth 105 calories. So, think of rebounding in the convenience of your backyard vs jogging for 2 miles at a minimum speed of 4 miles an hour to reach the same heart rate levels. Even when compared head to head, rebounding provides more biochemical results and is less demanding on the heart as compared to jogging.
Lower Impact: Unless you are a spritely teen who cannot relate to the term 'joint pain', a low impact exercise that does not subject your lower body to repeated pounding should be a priority. Rebounding on a trampoline absorbs 87 percent of the impact that your lower limbs experience while jogging on a conventional surface, like say a concrete pavement.
The G-Force: And if that didn't sound convincing enough, then wait till you hear what NASA has to say about it. When you bounce off a trampoline, you are exposing yourself to a G-Force that is twice or thrice your body weight. And then you suddenly decelerate and experience complete weightlessness at the lowest point of the jump. This mix gives you much better muscle tone and improves your endurance. Bet you didn't know that. Did you?
The family activity: Love to workout in groups? Get your kids involved. I bet that they never thought that exercise could be so much fun. Trampolines are great way to get fit and have some family fun while doing it. Kids can spend hours bouncing on a trampoline and you will most probably have to drag them away from it.
All said and done, before you bounce off to an online store to buy the best trampoline for yourself, get ready to be surprised. And I am talking really surprised at the number of choices, sizes, shapes, types and brands that you will encounter. It's not as easy as walking into a supermarket and picking your favorite brand of fried pork chips. There's a lot more at play here and much more to think about.
To make things easier for you, we have cherry picked the best trampolines in the market currently on the basis of the space, the features, the quality and their popularity within the bouncing community. Here's our pick of the top 5 best trampolines for you.
#1 – Skywalker Trampolines 15-Feet Jump N' Dunk Trampoline with Safety Enclosure and Basketball Hoop
For most people who are just dipping their toes in the world of Trampolines, Skywalker is a great brand to begin with. They have a range of extremely durable, versatile and pocket-friendly trampolines that offer excellent value for money.
This 15 feet Jump N' Dunk Trampoline with Safety Enclosure and Basketball Hoop is one of their most popular models with over 95% positive customer reviews.
The Review
With a spacious 15 feet bounce surface and a large 7 feet enclosure, the Skywalker Jump N Dunk is perfect for kids of all ages and adults too. It offers excellent bounce, thanks to the 96 tightly coiled rust-resistant 6.5-inch springs, (which are protected with a foam padding) which will keep your kids entertained and your muscles busy.
Assembly, is fairly easy. But you may need assistance if this is the first time you are installing a trampoline. Ensure that you have the inventory of all the pieces and hardware before beginning installation.
The Skywalker Jump N Dunk is a very durable and stable trampoline. It features reinforced welded T-sockets (galvanized steel) at each of the legs and the joints which enhances the stability even on a bumpy surface and on a very windy day.
To ensure that your little ones don't find a way to wiggle their hands or legs out of the teeniest corner of the enclosure, it has a patent pending closed enclosure design with zero gaps between the jumping net and the enclosure.
The icing on the cake is the attachable Basketball hoop that will keep the kids busy with dunking when they are bored of the trampoline.
Features
Large 15 feet bounce surface with excellent bounce
Rust-resistant 6.5-inch springs
Patent pending No-Gap Enclosure System
Galvanized steel t-sockets at the joints
UV protected spring pad
Closure system with zippers for mommies concerned about the safety of their kids
Attachable basketball hoop for double the fun
Is this a good choice for me?
Absolutely. If you are looking for a versatile entry-level trampoline for home use that has a large bounce surface, is stable and durable, then go for the Skywalker Trampolines 15-Feet Jump N' Dunk Trampoline.
#2 – Zupapa 15 14 12 Ft TUV Approved Trampoline with Enclosure net and pole & Safety Pad & Ladder & Jumping Mat & Rain Cover
With a pocket-friendly price, an international safety certification and one of the sturdiest trampoline frames ever at the price point, you cannot go wrong with the Zupapa 12 ft. TUV approved trampoline.
It is certified by Technischer Uberwachungs-Verein, an EU notified independent German consultancy firm that validates the safety and stability of consumer products. And it is completely worthy of the certification. Because, as some customers mention in their reviews, the Zupapa won't budge from where you put it, even if there's a windstorm. It is that sturdy. Go figure.
The Review
The Zupapa features one of the most durable heavy duty frames made of 42 mm rust resistant galvanized steel. The net poles are much longer than what you'd normally get with entry-level trampolines and have two steel joints for added stability. Also, the 15 feet model has 108 Galvanized Springs, which is 12 more than what most other models have. This improves bounce quality significantly.
The 7 inch rust resistant springs are protected by a UV resistant surface that is filled with PE and PVC foam padding that provides a comfortable and easy bouncing experience.
With an enormous 72 inch safety enclosure net (with extra zippers), you do not have to worry about your child playing Houdini and bouncing over it. This also makes the Zupapa a great trampoline for adults.
To make life easier for the first time buyer, the package includes a bundle of accessories like the ladder and a rain cover, so that you do not have to go buy it separately.
Features
TUV certification for stability and safety
72 inch high zippered safety enclosure net
Longer poles with two steel joints
Poles and legs bundled together for added stability
Rust resistant galvanized steel springs
Foam padded UV resistant bounce mat
Excellent customer ratings all over
Is this the right choice for me?
If you are looking for a trampoline with a smaller bounce surface and a smaller footprint that does not compromise on safety or stability then the Zupapa should be right up in your list of probable. It is one of the most reasonably priced, feature laden trampolines at this price point. You cannot go wrong with it.
#3 – Skywalker Trampolines 15-Feet Round Trampoline and Enclosure with Spring Pad
If you really liked our #1 rated Skywalker Jump N Dunk, but found it a tad too expensive for your liking, then check out the Skywalker 15-Feet Round trampoline and Enclosure. It is an exact replica of the earlier model. The only difference is that this does not include a basketball hoop.
As always, Skywalker manages to come up with a versatile and value-for-money proposition that is an excellent choice for home use. It is stable, durable and has perfect bounce.
The Review
Trampolines are a welcome replacement for gizmos and videogames and most parents would willingly buy one any day. But when it comes to budget priced models, safety and stability is a concern. Not with the Skywalker 15-Feet Round Trampoline. With its heavy gauge galvanized rust resistant steel frame and 6 W-shaped legs, it provides a stable and firm surface that even adults can bounce on, without any wobble or unevenness.
The upper enclosure frame is attached to the trampoline frame with reinforced T-sockets that prevents any kind of structural twisting.
Skywalker's patent pending button-hole feature attaches the net to the jumping surface preventing any dangerous gaps from forming that your kids can slip through.
It has a 200 lb. weight capacity but most customers have reported using it up to 260 lbs. without any problems.
Features
15 feet round bounce surface with excellent response
Long safety enclosure to prevent kids from bouncing over
Rugged and durable galvanized steel frame with 6 W-shaped legs
Reinforced T-sockets to prevent structural twisting
Patent pending stay-put safety feature to prevent gaps
200 lbs. weight capacity
Is this a good choice for me?
Priced at just under $270 for the 15 feet Blue model, this is one of the most economical trampolines that you can buy. Coming from Skywalker, you can be rest assured of the quality. It may not rival a much higher priced trampoline. But it has all the bells and whistles that you'd need for safe and effective home use.
#4 – Skywalker Rectangle Trampoline with Enclosure, 15-Feet
Skywalker's Rectangular Trampoline with enclosure is a professional-grade high quality trampoline that allows jumpers to reach a higher altitude. This makes it a great choice for anyone looking to hone their skills at home or even for the professional gymnast or competitive jumper.
It gives you great control over your jumps and absorbs most of the impact during landing, due to the different rates at which the spring coils work.
The Review
The Skywalker Rectangle Trampoline with Enclosure includes all of Skywalker's signature features that make it such a popular and versatile choice. The galvanized steel frame keeps rust away and provides years of weather resistance in the outdoors. So, even if you run your sprinkler occasionally, you have less to worry about your trampoline getting rusty.
The reinforced T-sockets will prevent structural twisting while you bounce and the 76 tightly coiled rust-resistant 7.64-inch springs give you excellent bounce that is easily comparable to any high priced professional trampoline used by gymnasts.
16 of these springs are made of a thicker steel and are used at selected spots on the mat where additional bounce support is needed.
The 1 inch thick foam padding on the UV protected spring pad gives your ankles and joints the added support it needs while performing high intensity jumps.
The patent-pending button hole feature that attaches at each V joint prevents any unwanted injuries due to hands, legs or fingers slipping out of the gap.
Features
Large 15 feet rectangular jump surface with excellent bounce
Weather resistant galvanized steel frame and joints
Durable T-sockets that keep the frame stable
Higher lift and height due to the different rates at which the 7.64-inch springs work
Patent pending safety feature to prevent injuries
UV protected spring pad with thick 1 inch foam
The Verdict
The Skywalker Rectangle Trampoline with Enclosure, 15-Feet is not your average priced entry-level trampoline. It is a rugged, durable and professional-grade trampoline that offers complete bang for your buck. Does your little one aspire to become a professional? This is just what you need. This is the best trampoline for younger kids.
#5 – Exacme 6W Legs Trampoline with Safety Pad & Enclosure Net & Ladder All-in-One Combo Set
Buying a trampoline for your kids that includes everything that you need to set up and get going, is always advantageous than having to buy smaller accessories like the ladder separately. The Exacme 6W Legs Trampoline includes an impressive bundle of accessories that make it a perfect choice for the home user.
It is a very safe and stable trampoline with multiple safety certifications (TUV certified, GST testing and UV testing) and enough features to impress even a seasoned gymnast. To top it all, it has a weight capacity of 375 lbs. which is the best in the market at this price point.
The Review
The Exacme Trampoline features 6 W-shaped legs with 12 balanced contact points that gives it an incredibly firm footing on the ground. Also, the rust resistant galvanized steel heavy duty frame makes it a heavy and weather resistant choice. So, even if it's an extremely windy day, you won't have to worry about the trampoline getting blown out into the neighbor's yard.
To prevent kids from bouncing out of the trampoline, it features a safety enclosure that can be secured to the frame with a bunch of straps and ropes that is included in the package. Even though there is no lock system to prevent gaps from forming, there are no gaps in between the net and the frame and you can be rest assured that your children will not slip through.
The 15 feet bounce surface is perfect for small families. So, if you are looking for a trampoline with a small footprint that offers just about enough play surface, the Exacme comes across as a great choice.
Features
Multiple safety certifications (TUV, GST, UV)
Rust resistant galvanized steel heavy duty frame with 6 W-shaped legs with 12 balanced contact points
No gaps between the frame and the trampoline surface
Weight limit of 375 lbs.
Zippered enclosure
Package includes a pad and a ladder
Is this the right choice for me?
With multiple safety certifications and all the accessories you need to set up, this is the perfect 'grab and go' trampoline. You can set it up in the backyard and forget about it. It is stable and will keep your kids entertained for hours.
That's it folks. Those are the best trampolines in the market currently. We hope you enjoy bouncing on your new trampoline as much as we enjoyed reviewing them.